10 tips to relieve heartburn this festive season
The festive season can be a slippery slope when it comes to over indulgence.
Temptation is right there on a plate, in a tub, in a glass and served up at the table for pretty much the entirety of Christmas and new year.
Plus it's all topped off with a merry dollop of new year!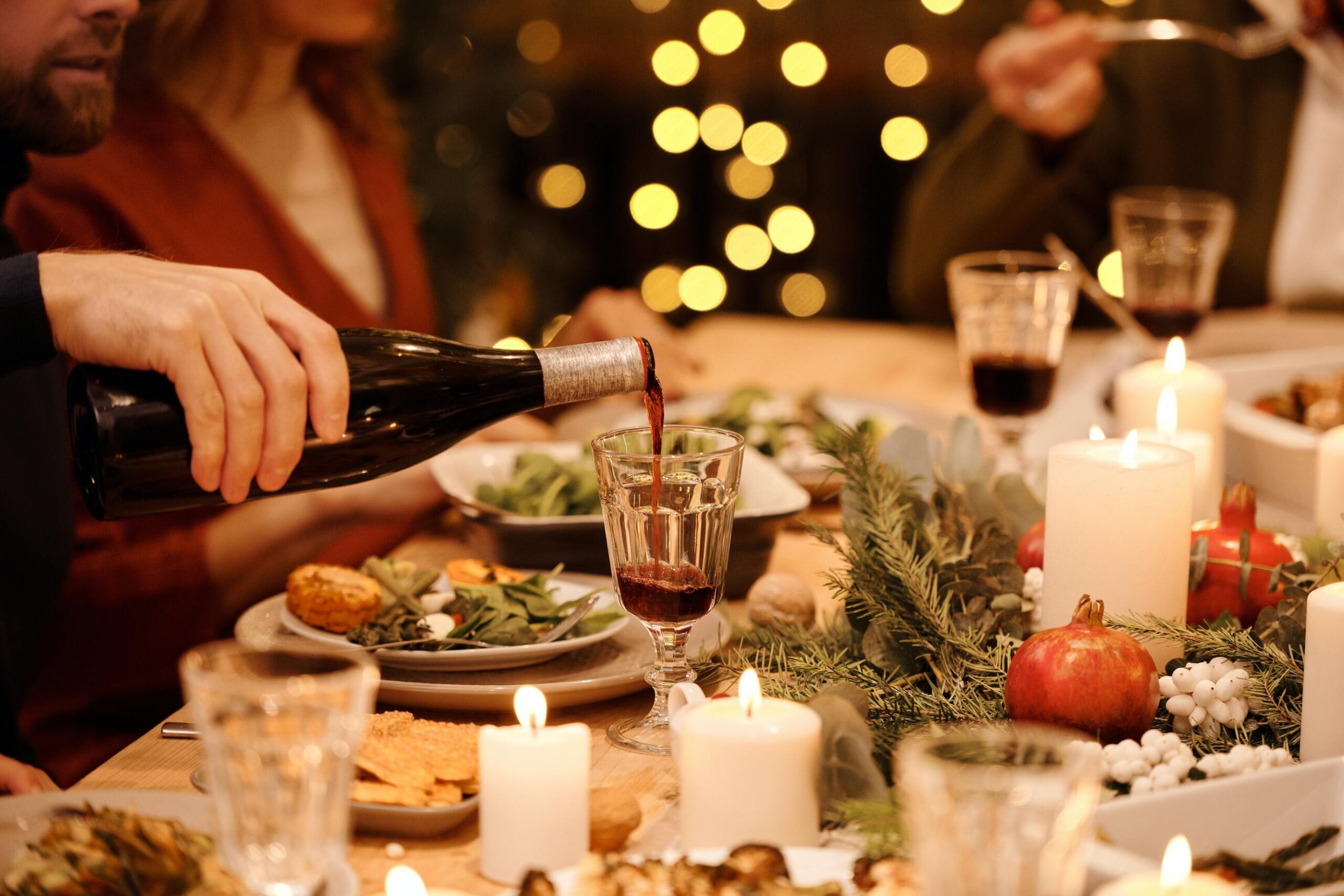 Heartburn at Christmas
For heartburn sufferers, the well-known triggers that we more or less manage throughout the year seem to present themselves at every opportunity in an array of festive forms; Christmas parties, Christmas dinners, buffets, nibbles, movie treats – not to mention cheese boards and leftovers which lure us in when we're already as stuffed as a Christmas turkey.
It's hard to resist and we all want to unwind and enjoy ourselves but for those of us prone to heartburn it's best to be a little more cautious.
Cautious doesn't have to mean boring though.
With a little forward planning – and yes there does have to be an element of discipline involved! – you don't have to miss out on the joys of the festive season.
There's also all the stress of the extra workload of the festive season on top of our already busy lives.
It can be a cocktail, or trifle, of heartburn triggers!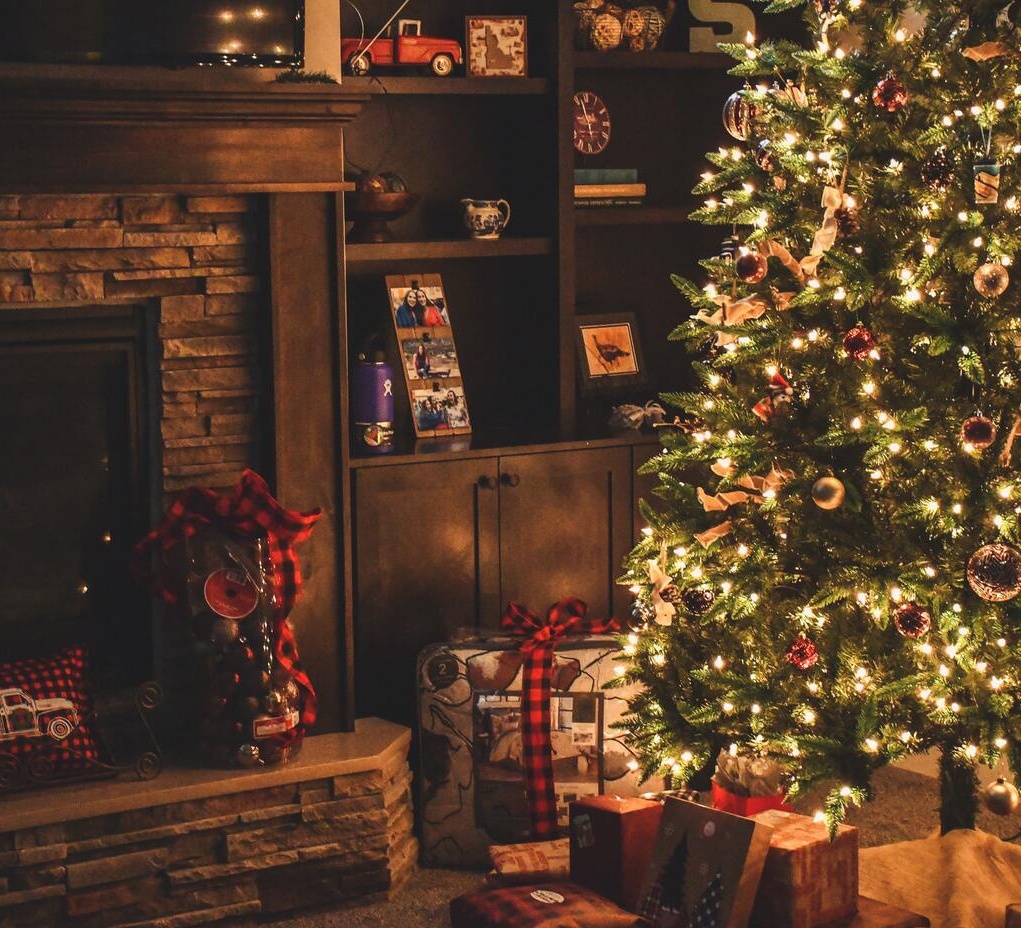 What is heartburn?
Heartburn is an unpleasant burning feeling in the chest which is caused by stomach acid travelling up towards the throat. This is known as acid reflux.1
You may experience bloating and feel sick, a cough or recurring hiccups, an unpleasant sour taste, a hoarse voice and bad breath.1And your acid reflux symptoms can be worse after eating, lying down and when bending over.1
Many of us get the occasional heartburn but if it happens regularly it's known as gastro-oesophageal reflux disease or GORD.1
Find out more about the difference between heartburn, acid reflux and indigestion.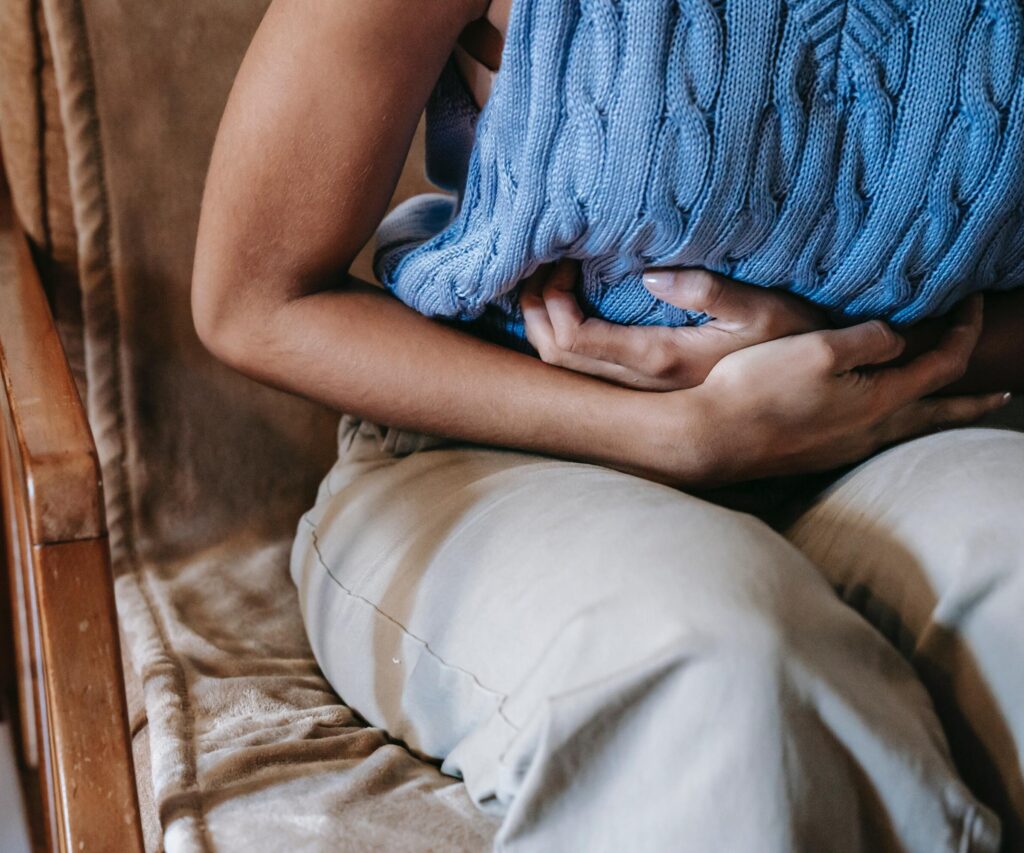 What causes heartburn and acid reflux?
Aside from pregnancy, smoking and being overweight there are several lifestyle factors which can cause or make symptoms worse.1
The festive season tends to have them all wrapped into one unappealing heartburn package – certain food, drink, stress and anxiety caused from acid reflux / heartburn 1
Fatty foods, chocolate and alcohol are well known heartburn triggers1 and there's certainly plenty of those around as we celebrate and relax.
There can also be plenty of stress too – alongside the excitement of Christmas there's usually a lot to do and think about and it can play a part in heartburn flare ups.
Festive heartburn culprits
We can thank – or blame! – the Victorians for our Christmas dinner, pudding, cake and mince pie traditions, although the ingredients have been influenced by others over the decades too.
These foods are all high in fat – the main event banquet of Christmas dinner alone can reportedly contain up to 7,000 calories – so how do you still manage to enjoy without missing out?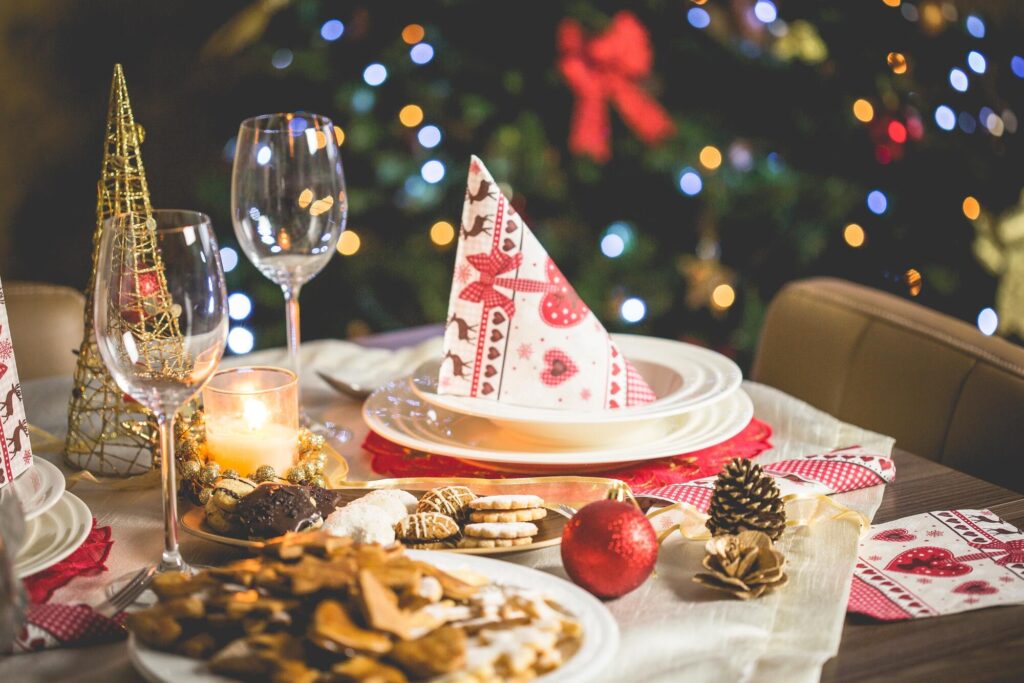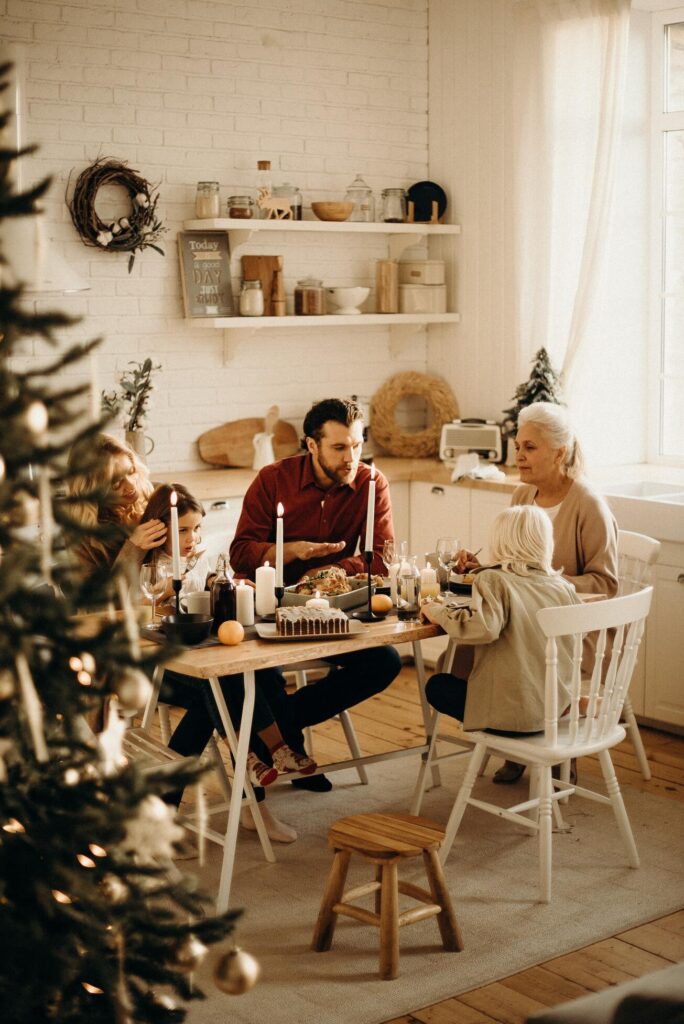 Christmas tips for heartburn & acid reflux
Here's our tips to enjoying the traditions and trimmings while minimising the risk of heartburn & acid reflux.
Christmas is a time for indulging but keep it to a minimum and if there's a particular food or drink which causes your heartburn to flare-up, try to steer clear and substitute it for something else.
When cooking, consider…

Turkey is low in fat so it's a good option for the roast and there are plenty of lower fat gravy recipes out there.
Pack in plenty of vegetable sides – you could try being creative with some festive flavouring.
When it comes to cream-free desserts, jellies or meringues can be just as delicious, as can fruit-based puddings.
If you're baking a pastry dish, try filo as it's lower in fat than shortcrust or puff pastry.

Try to avoid overeating2. Reduce your portion size and eat smaller, more frequent meals1 or lighter bites.
We all enjoy getting dressed up at Christmas but clothes that are tight around the waist could make your symptoms worse so go for something looser and more comfortable.1
Sit up straight when eating and after a meal to stop stomach acid travelling up towards your throat. Raise your head above waist level by 10-20cms in bed.1
Avoid eating within three or four hours before bedtime, this can be difficult during the festive frenzy, but it lessens the chances of heartburn occurring and keeping you awake.1
If you do fancy a festive tipple don't drink on an empty stomach. You could try eating bread or drinking something milky beforehand to coat and protect your stomach from any potential acid reflux.2
How to lessen stress induced heartburn at Christmas
Aim to be organised by preparing as much as you can gradually in advance. Whether that's making lists, buying and wrapping presents or prepping food.
Delegate! Get family members to help out by delegating tasks, such as buying a few pressies, putting up the decorations or even washing up. It all helps to lighten the load.
Factor in time out from the prep in the run up to Christmas. Push it to the back of your mind for either a festive-filled day out or some 'you time' – that could be a walk, a meet up with friends, a Christmas movie or a good old box set.
Check out our blog for more information on acid reflux & stress.
The main thing is to enjoy the festivities – that may mean cutting back or cutting out some of the food and drink you prefer – and lessening the stress-triggering of having to have the 'perfect Christmas' – but if it prevents the unpleasantness of heartburn, you'll be all the more merrier for it.
Pharmacy advice
If lifestyle changes and medicines such as antacids aren't helping to prevent or relieve your heartburn symptoms, speak to your pharmacist for advice and taking suitable treatments.1
Pyrocalm Control 20mg Gastro-Resistant Tablets contain omeprazole which is a widely used treatment for the symptoms of heartburn and acid reflux and works to reduce the amount of acid your stomach makes.1
As the first branded omeprazole 20mg3 available over the counter it provides up to 24 hour3 confidence in heartburn control.
Pyrocalm Control 20mg Gastro-Resistant Tablets are used in adults for the short-term treatment of reflux symptoms (e.g. heartburn, acid regurgitation, acid reflux). Pyrocalm Control's gastro resistant tablets is an over the counter omeprazole available from your local pharmacy. Always read the label.
Medicines can affect the unborn baby. Always talk to your doctor or pharmacist before taking any medicine in pregnancy.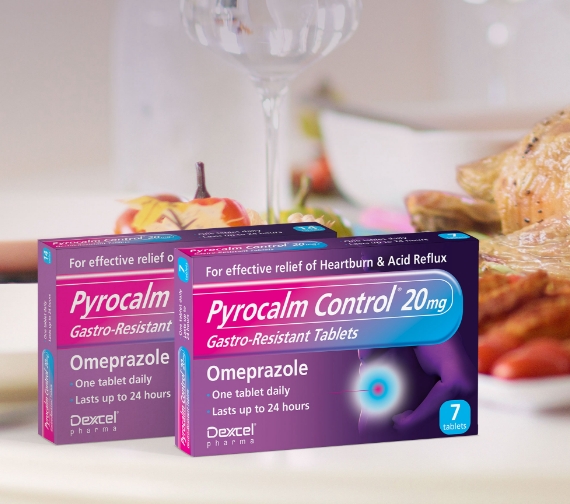 References
Patient Information Leaflet
Pyrocalm Control® 20mg Gastro-Resistant Tablets. For the short-term treatment of reflux symptoms in adults.
Contains 20 mg Omeprazole. Always read the label. Medicines can affect the unborn baby.
Always talk to your doctor or pharmacist before taking any medicine in pregnancy.